Group Therapy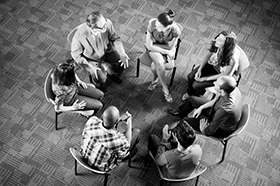 Do you want to work on some personal issue, but feel that individual therapy is too demanding, difficult, or expensive? Do you like exchanging with other individuals and giving some care at the same that you are receiving care from others? If so, group therapy might be a good fit for you. Whether you want to learn new skills, such as mindfulness, compassion, and acceptance, or you want to address personal and interpersonal issues, immersing yourself in a group dynamic can be a helpful and deeply revealing experience.
Benefits of group therapy
Joining a group of strangers may sound intimidating, or even odd, at first, but group therapy provides benefits that individual therapy may not. The fact that others are facing the same type of situation may help you open up and discuss your feelings. In addition, everything that takes place within the support group should be kept confidential. Here are some of the benefits of group therapy:
Group therapy is very cost effective. Instead of focusing on just one client at a time, the therapist can devote his or her time to a much larger group of people decreasing as result the fee per session;

Group members can play an active role in mirroring your feelings and sometimes in challenging your thoughts and beliefs. They also can be a catalyst for helping you engage in committed and constructive actions;

The group represents a microsystem of the social reality where everyone repeats his/her patterns of behaviours and where each can learn the triggers of the behaviours and the effective strategies for change and growth;

Oftentimes, through cohesiveness, groups can be a wonderful source of support and sincere friendships;

Group therapy can be also conducted in conjunction with a process of individual therapy increasing the effectiveness of the therapeutic process.
Where to start?
The first step is to decide whether group therapy is for you. Here are some instructions about the functioning of the current group that can help you make a more mindful decision about participating or not:
Minimum number of participants in a group: 5;

Maximum number of participants in a group: 12;

Number of sessions: open (no minimum, no maximum, depending upon the needs of the members);

Presence in each session: optional but if other members are disturbed by that, it should be discussed within the group and voted if necessary;

Joining the group: open unless current members of a group vote against that, but the number of attending members should remain 5 or more to have the session;

Frequency of sessions: can be each week; but should be discussed within the group depending upon members' needs;

Schedule of the meetings: set for the first group meeting by the therapist (me); but can be discussed and changed if it fits better most of the group members;

Duration of session: 1 hour approximately if the number of members is 5, up to 2 hours or 2.5 hours if the number of members is near the maximum of 10 or 12 members;

Themes: no predefined theme for a session; it is a therapy group so themes are based on real life issues facing each member in the group;

Description: The background is about how mindfulness can be useful in addressing specific issues facing members of the group. This can include specific mindfulness practices. The foreground includes real personal/interpersonal life issues the same as in individual therapy. The group also creates a specific dynamic where many previously learned patterns take place and can be addressed in a way that benefits everyone in the group;

Languages: both French and English unless all members speak and prefer one language; later there might be separate French and English groups even if I personally prefer mixed Anglo-French groups as culturally it is richer;

Rules: rules of the group are discussed and voted on. The basic rule is a complete respect for the opinions and dignity of each member of the group;

Insurance receipts are available (preferably issued once a month or every 4 sessions for simplicity).
For a historical review of group therapy, please visit the following page
If you feel that group therapy can be good for you and that I can be helpful a bit as a group therapist, please contact me for a free 15-minute phone consultation at: 514.632.7133.